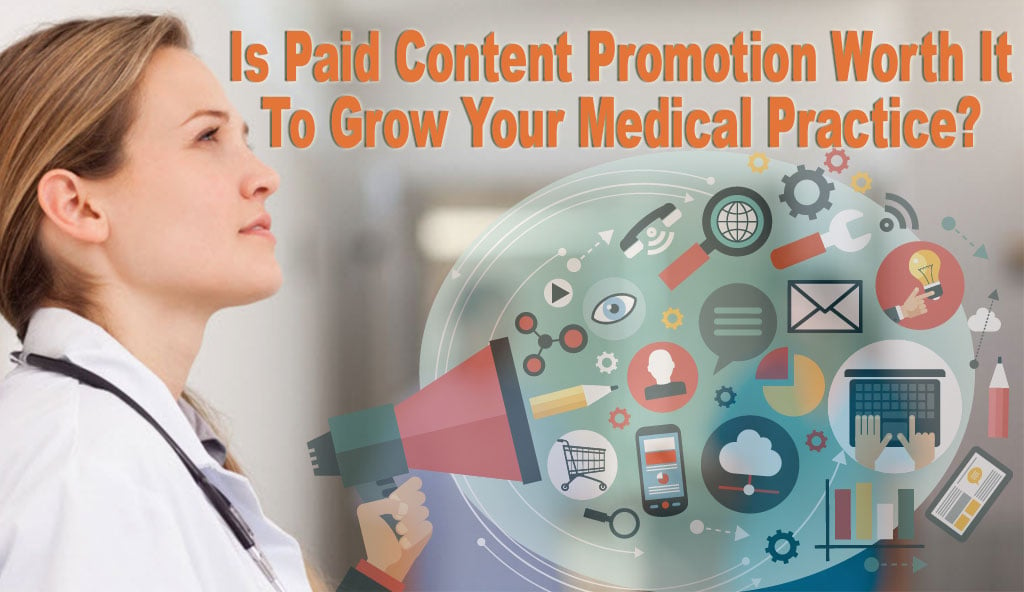 How Paid Content Promotion Is Important To Grow Your Medical Practice?
In the modern age of internet marketing, making great content is only half critical. This is a difficult process itself because it needs to be written, edited, and quality tested. The second hardest part after this is getting your content looked at by your target audience. You could have spent days and weeks on this content but yet, the right prospects are not seeing it. The only solution, in this case, is paid social promotions.
Many companies these days are investing in strategies which involve vigorous content marketing. This is the only way they feel that they can reach qualified potential patients quickly before it gets harder. Therefore, paid social media content promotion is crucial for any strategy of inbound marketing.
Why Use Social Media for Paid Promotions?
Billions of people around the world use social media. With paid promotions on social media, you can target any particular location where your target audience is located. You can narrow down the demographic in other ways too. That way, your ads will be seen by the exact people who you want to see them.
Which Social Media Platform is Right for Me?
The best paid social media promotions include LinkedIn, Instagram, Facebook, and Twitter. These are used the most by people and they are the most effective for local advertising. You can reach a whole range of diverse groups of people through them that you want to reach. You can identify and target virtually any niche audience that you want. You will know which audience is the best because you will do research first into your niche. This will tell you who to target and who to avoid.
1- Facebook
Facebook Ads are the way to go if you want to promote content to Facebook users. This ad platform allows you to get very specific with your targeting so that you can achieve better results. You will also have access to a great analytical reporting system which is better than any other social platform's system.
2- Instagram
Instagram Ads are like Facebook Ads because they have targeting options too for advertisers. You can target certain behaviors, locations, and interests of the users you want to reach. You can customize your audience reach with phone numbers and email addresses too. There is even a "lookalike audiences" feature which allows you to target those who are just like the existing customers of the brand.
3- LinkedIn
Text advertisements and sponsored content are the two ways in which you can get paid promotions on the LinkedIn website. Sponsored content is preferred because it shows up on the news feeds and home pages of the users. You can target prospects with features like job title, age, location, CPC, and budget.
"Matched Audiences" was recently released by LinkedIn which boosts the initiatives of B2B marketing. There are 3 new targeting features introduced; contact targeting, website retargeting, and account targeting.
4- Twitter
Twitter feeds are flooded with tweets because of how fast people are sending them, especially now that 280 characters are allowed per message. For this reason, marketers like to use promoted tweets because it sends their content right to the user's Twitter feed to where they can clearly see it. You can target Twitter users based on their followers, keywords, and interests. There are free analytic tools available on there which are easy to use.
Paid Social Promotions for Re-engagement
It is great to remarket your content on a social media platform. If a prospect has seen your website already and expressed interest in its content, then you can get them into your sales funnel by remarketing your advertisements and providing them with information which will be necessary for them to close a deal.
Paid Social Promotions & Inbound Marketing
Social media used to be deemed as a free tool for marketing content. Now, social media has become a paid marketing tool but one that can get you more visibility much more easily. You just can't be afraid to invest in social marketing. About 65% of businesses are going to boost their online advertising investments in 2018. Therefore, you should budget for this yourself so that your content can be seen on digital media platforms too. Peak Marketers , for example, can help you with your inbound marketing strategies for social media and other forms of content marketing.