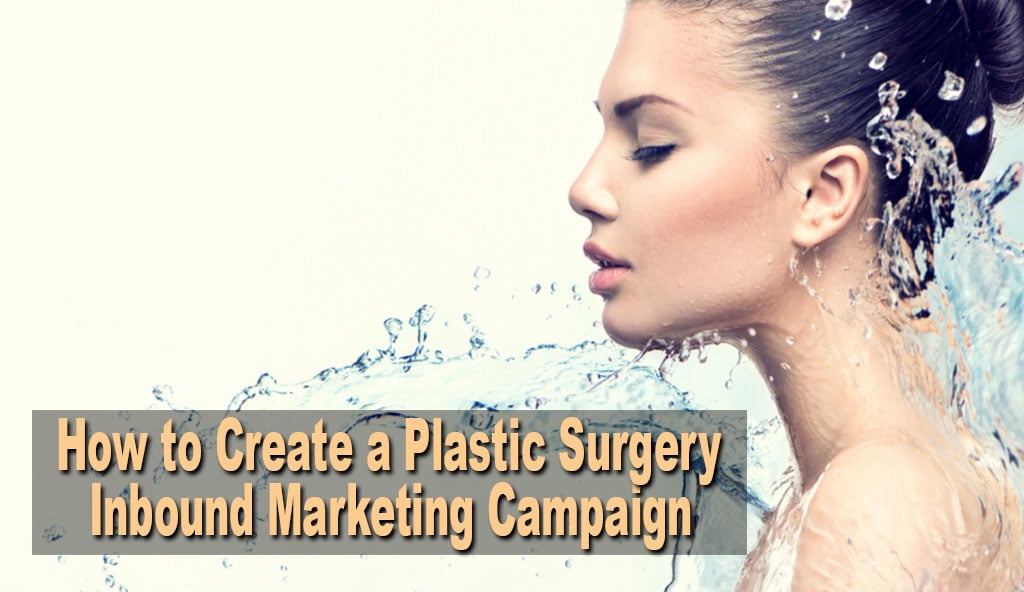 During the spring and summer, people enjoy the warmer weather because it gives them an excuse to travel and be outside more. This means they will want to look their best when they show off more of themselves on the beach and in other public places. With all the options for beauty enhancement which currently exist on the market, you need to create a market campaign that effectively informs them on the best choice to make.

How to Create a Plastic Surgery Inbound Marketing Campaign? There are numerous elements which can make your Plastic Surgery Inbound Marketing Campaign a success. Basically, you need to have a well-outlined plan, an attractive quality about your product, a professional and creative promotional strategy, reminders that are timed precisely, a "thank you" that is truly sincere, and consistently following up with your audience.
Below is a sample campaign to give you a better idea of what to do.
Create an Effective Plan
Think about past promotions which were successful for you. Now think about what you want your next marketing campaign to accomplish. Put this information into a game plan and be as specific as possible in your goals for the campaign. Do you want there to be more local awareness? Do you want to get more people to visit your website each week or month? Most importantly, how many new contacts to you want to make per month? These are all objectives which need to be incorporated into your game plan so that they can work toward accomplishing the overall objective of your marketing campaign.
Some goals you may set for yourself in the campaign include:
Getting 1,000 new people added to your contacts list from a new area zip code.
Obtain 200 new contacts who could potentially opt for a non-surgical weight loss procedure for reducing fat over the next six months.
Have 50 patients sign up for small facelift procedures over the next three months.
Develop a Hook to Attract People
As summertime approaches, you may have a goal to get 100 new potential customers to go to a special event that you are hosting. This could be an educational seminar or session which will be held on May 1st. Perhaps you are serving delicious appetizers and beverages there while displaying the success stories of your previous customers who have tried the plastic surgery. As a bonus, each person who attends the event will receive a free gift and a coupon which gives them a discount on the service.

With all this planning for the event, let's say your budget is only $xxx for promoting it. A call-to-action should be developed for the pages of your blog or website. Once they click on the button, visitors should get sent to a landing page where they can find all the information about the event. If anyone wants to register so that they can attend, there will be a form available where guests can sign up. Once their information is submitted, the guests will get forwarded to a "thank you" page. Not only that, a registration confirmation email will be sent to them which contains the ticket needed for attending the event.
Smart Promotion
You need to figure out the method of how you want to spread the news about your event. Below are a few ideas for getting more people to see the landing page of your event.
Send an email to everyone on your contacts list that has already expressed an interest in learning more information about fat reduction procedures which do not involve surgery.
On your Instagram page, publish photos with a summer theme to them. Add a text overlay with a URL to your landing page.
Run a pay-per-click campaign and bid on keywords like "summer body" and "fat reduction."
Make blog posts regarding summer topics. These should be topics like improving your muscle tone, keeping your skin safe and protected from the sun, how to stay hydrated, weight control methods, and the importance of outdoor exercise. Below each blog post, include a call-to-action which links people to the landing page regarding the event.
Post advertisements on Facebook which feature URLs to your landing page. Do the same thing on your Instagram page too.
Your home page should feature a banner which advertises the special event you are hosting. Include a call-to-action which links to your landing page.
There are a variety of different methods for advertising your event. The important thing to do is figure out the best places to make contact with your target audience. This means using the proper topics, terminology, colors, and pictures to attract these people to your ads.
Send Reminders That Are Timed Just Right
After someone finishes the registration form and becomes registered, be sure to periodically stay in contact with them. That way, they will consistently remember you and have reason to be excited about the event. Just be sure not to contact them too frequently or else it will annoy them. Also, you need to create engaging content which is informative and important enough for them to want to look at. Otherwise, if you start sending them irrelevant content, they will lose interest and decide not to attend the event.
If you schedule your posts on social media, they will be published on the time and date that you indicate. These will have high-quality tips for practicing as well as tools for photo editing which will help make your posts more effective. Automation tools for emailing have these kinds of benefits too.
Give a Meaningful "Thank You"
In most cases, you won't see all the respondents coming to the event. However, this doesn't mean you have to lose contact with them because you still have their contact information. Just keep communicating with them periodically no matter if they come to the event or not.
Break up your list of registrants into those who didn't show and those who did show. After that, send a customized email to each group which gives thanks for expressing an interest in the event. Include interesting photos that were taken from the event in the email. You may even want to include a discount offer which is made exclusively for them. Continue posting more event photos on your Instagram, Facebook, and other social media profiles.
Keep the Conversation Going
Your prospects should still be interested at this point. You need to keep the conversation going with all your leads and make regular posts on social media. Monthly newsletters should be sent to them which feature links to new blog posts. Let your subscribers know about upcoming events and the schedule for any future open houses that you may have. Send them invitations and invitation reminders for these events.
Get Help from an Expert
To find out more information on how planning a strategy for your plastic surgery practice's marketing campaign will make it more successful, talk to our experts. We are an inbound marketing partner agency which has been certified by HubSpot. We are knowledgeable in all areas of inbound marketing for healthcare professionals, including attracting patients, converting them into customers, closing the deal with them and simply delighting them all the way through.